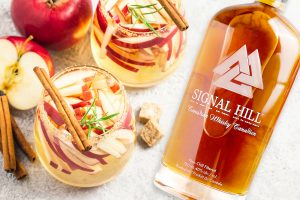 Cozy up on a chilly fall day with this delicious mulled apple cider.
Signal Hill Mulled Apple Cider
1.89L Apple Cider
1/4 Mulling Spices*
4 Apple Slices
8 oz. Signal Hill Whisky
6 Cinnamon Sticks
6 Star Anise
*Mulling Spices: these can be store bought or made yourself by combining:
2 cups Crushed Cinnamon Sticks
2 cups Whole Cloves
1 1/2 cups Dried Orange Zest
1 cup Cardamom Pods
1/2 cup Peppercorns
How To:
Add the apple cider, mulling spices and apple slices to a large pot. Cook over a low heat for 20-30mins to allow the spices to infuse the cider.
Remove the pot from the heat and add in the Signal Hill Whisky, stir together. Ladle and strain the mulled apple cider into a mug. Garnish with Apple slices, cinnamon and rosemary. Enjoy!