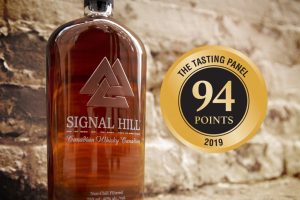 "Deep," "Rich," and "Maple-kissed" are just some of the notes The Tasting Panel describes Signal Hill Whisky as. Signal Hill developed a versatile, flavour-forward whisky with new white-oak casks, first-run bourbon casks, and Canadian whisky casks. Our full-bodied blend of Canadian whisky, distilled from corn and barely features notes of honey, vanilla and apricot, as well as touches of spice and sweetness. The Tasting Panel recognizes our great flavour, awarding Signal Hill Whisky a 94 point rating.  We are so proud to represent Canadian Whisky and we'd like to thank the Tasting Panel.
As of Fall 2019, Signal Hill bottles have been produced with a sticker to show off our new rating.
For the full Tasting Panel feature visit page 78.