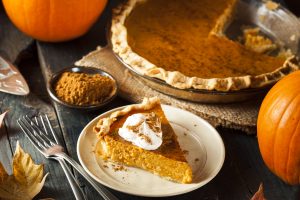 Treat your Thanksgiving guests to a slice of this delicious Signal Hill Pumpkin Pie!
Signal Hill Pumpkin Pie
Serves 6-8
Pumpkin Pie Filling:
4 Egg Yolks
1 Egg
1 cup Brown Sugar
2 tbsp. Corn Starch
2 tsp. Ground Cinnamon
1 tsp. Ground Ginger
1/4 tsp. Ground Nutmeg
1/4 tsp. Ground Cardamom
1/2 tsp. Lemon Zest
1/2 tsp. Salt
2 cups Pumpkin Purée
3 tbsp. Signal Hill Whisky
1/2 tsp. Vanilla Extract
1 1/2 cup. Heavy Cream
How To:
Preheat oven to Preheat oven to 350 °F.
In a bowl, combine egg and yolks with sugar, corn starch, ground cinnamon, ground ginger, ground nutmeg, cardamom, lemon zest and salt. Whisk together until well combined.
Add the pumpkin purée, Signal Hill Whisky, vanilla and heavy cream. Whisk together until smooth.
Using either a homemade or prepared pie crust. Place pie crust into a 12″ pie dish, smoothing it out and remove any access crust hanging over the dish. Using your hands or a fork, create a design of your choosing in the crust. Using a fork, poke holes into the pie crust.


Pour the pie filling into the prepared pie dish with the pie crust. Place in pre-heated oven for 40-45 minutes or until the pie is mostly set. (note: when the pie is mostly set, the filling will still jiggle a little). Set aside to cook before serving. Garnish with a dollop of whip cream and a sprinkle of cinnamon.