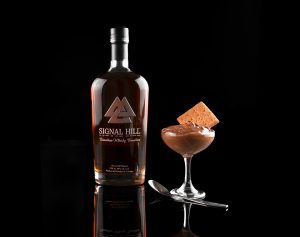 This pudding combines the great taste of Signal Hill Whisky with chocolate and orange.
Ingredients:
2 oz. Signal Hill Whisky
2 oz. Extra Virgin Olive Oil
8 oz. 70% Cacao Dark Chocolate Nibs
1 tsp. Shaved Orange Zest
Pinch of Sea Salt
Bring heavy cream to a boil and then slowly pour over dark chocolate in a separate bowl. Whisk the cream and the chocolate together until there is a smooth consistency. Slowly add the extra virgin olive oil and Signal Hill Whisky. Add shaved orange zest and fresh cracked sea salt. Pour contents into a mason jar and place in the fridge for 3-5 hours. Serve with a glass of Signal Hill Whisky and a graham cracker.