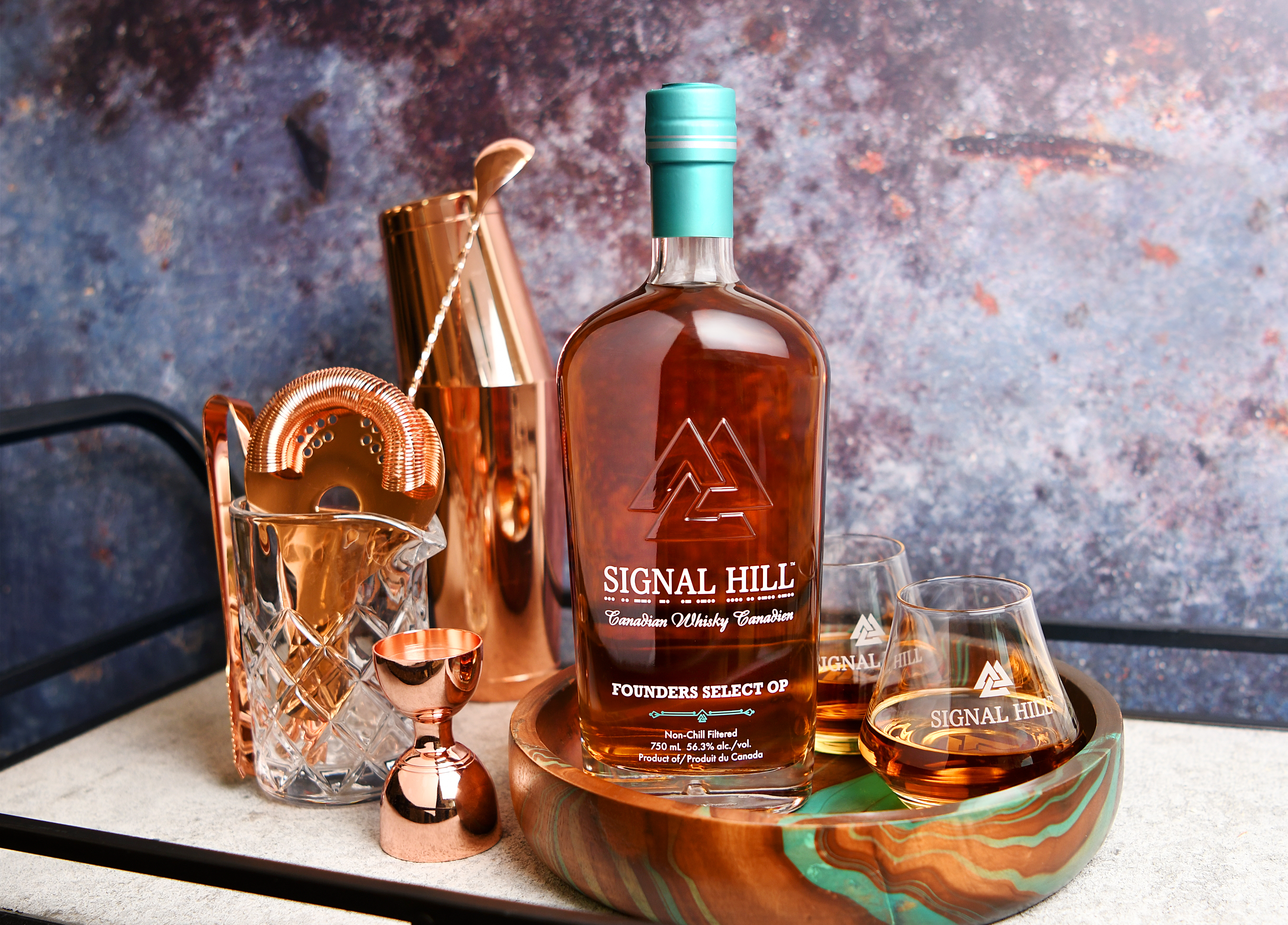 Introducing Signal Hill Founders Select Overproof Whisky. This blend is cherished for its classic taste, now elevated with an impressive ABV of 56.3%. It pays homage to historical whisky norms while setting itself apart with a robust flavour profile that demands attention.
Signal Hill Whisky's tradition continues with the limited batch production of OP. Embrace its boldness without sacrificing the exceptional flavour profile that defines Signal Hill. Signal Hill OP strikes a balance between heritage and innovation, offering enthusiasts and newcomers alike the opportunity to savour the next level of flavour on an unforgettable whisky journey.
Crafted in our signature Signal Hill Whisky style, using only the highest quality corn and barley, our spirits are aged in three types of barrels: Canadian whisky, new white oak, and bourbon. This meticulous blending process results in a rich amber appearance and deep layers of flavour waiting for you to discover.
Signal Hill OP boasts a rich amber appearance with golden highlights and deep caramel tones. Notably, it exhibits thicker, slow-moving legs compared to the Original Signal Hill.
 Tasting Notes
On the nose, it begins with a gentle alcohol warmth that mellows over time. You'll discern notes of vanilla, caramel, toffee, and honey, creating a delightful sweetness. Baking spices like cinnamon and cloves intermingle with hints of citrus, particularly orange zest. Subtle oak undertones add depth to the aroma.
A surprising warmth from the alcohol, though less intense than one might expect from a 56.3% ABV. Signal Hill OP offers a well-rounded mouthfeel with a touch of viscosity. The finish is notably prolonged compared to the Original Signal Hill Whisky.
Whether enjoyed neat, on the rocks, or in a cocktail, Signal Hill Founders Select Overproof Whisky invites you to savour the boldness of tradition and innovation combined.