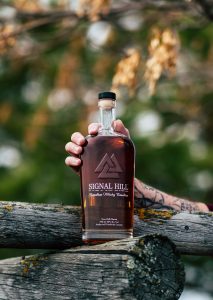 Signal Hill holds a place in our collective histories, from Cape town to Kowloon, California to Newfoundland. It is these historical embodiments of connection and communication that have inspired the spirit of our whisky. In today's society, the modern comfort of our lives keeps us on a steady routine. We find ourselves constantly connected to work, emails, to our cellphones and computers. As a result, we have become more disconnected to what matters most—true connection.
Signal Hill represents adventure, innovation and longevity. A location that bears the stories of histories past. It is our whisky that maintains these connections now and tomorrow. Signal Hill Whisky is a reminder of the importance of unplugging once in a while to engage and explore the wonders our amazing world has to offer.
Whether it be new adventures, old friends or exploring nature, #reconnect with Signal Hill Whisky.