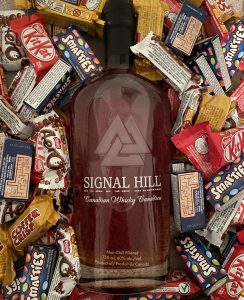 It's National Chocolate Day and almost Halloween weekend, so what better way to celebrate than by pairing some of your favourite Halloween chocolates with your favourite Canadian Whisky?

We asked our Brand Ambassador, Andrew Daw, to compare the experiences between Aero, KitKat, Smarties, and Coffee Crisp with Signal Hill Whisky, and here is what he discovered.
Aero: With notes of honey and caramel this was a phenomenal pairing and quite honestly tasted like heaven. The whisky was full-bodied and very creamy. The perfect partner for a classic Aero.
KitKat: Rich notes of nougat and marzipan made this pairing taste like a boozy vanilla hot chocolate.
Smarties: This pairing brought out the dried fruit notes, particularly apricot which was very surprising. This fruity taste surprisingly comes from the hard sugar exterior of the candy. After the sweetness, there are notes of caramel and a slight oaky spice.
Coffee Crisp: It goes without saying that, this pairing had a strong crisp coffee flavour with a creamy liqueur mouthfeel. This pairing was slightly bitter but had a silky texture with notes of caramel.
In addition, we took to social media to find out what your favourite chocolate was to pair with Signal Hill Whisky and these were the results:
49% Coffee Crisp
26% KitKat
18% Aero
7% Smarties
Got plans for Halloween? Do the tasting yourself and see what similarities and differences you find. Let us know what your favourite pairing is!