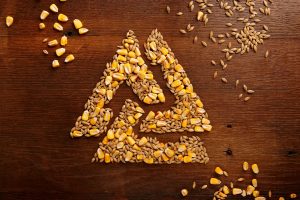 Over 1000 years ago, Leif Erikson and his Viking crew first stepped foot on the shores of Canada. They travelled south from Greenland until they reached the shores of Vinland, now known as Newfoundland. With the arrival of Erikson and the Vikings, came the culture of Norse mythology. This culture has remained today through the Valknut symbol, which has continued to be of historical significance. The Vikings and their quest to Canada represent the spirit of adventure – creating connections between lands, culture, and communication.
Our logo is inspired by this traditional Valknut symbol, consisting of three interlocking triangles. Each part signifies great meaning linked to different trinities. For some, the Valknut is known to signify the Gros Morne Mountains, the icebergs or even "the Rock." For us, it connects the three most vital parts of our whisky: the grains, the water, and the barrels.  Signal Hill lies at the heart of our trinity, which will forever stand as a symbol of the human spirit's desire for connection.
Signal Hill Whisky was created to bring people together, build memories and share adventures. This is what getting together with friends over a drink is all about.