THE DRINK: Spruce Tip & Balsam Fir Whisky Sour
2 oz. Signal Hill Whisky
1 oz. Balsam Fir Syrup 
¾ oz. Lemon Juice
1 Egg White
8-10 Spruce Tips
4-5 Dashes Angostura Bitters
Add Signal Hill Whisky, balsam fir syrup, lemon juice, egg white and 3-4 spruce tips to a cocktail shaker with ice. Shake vigorously for 10-15 seconds. Remove the ice and shake again for another 10-15 seconds. Double strain into a chilled coupe glass. Drip 4-5 dashes of Angostura bitters over top and with a skewer draw a line through. Garnish with 4-5 spruce tips around the top for aromatics.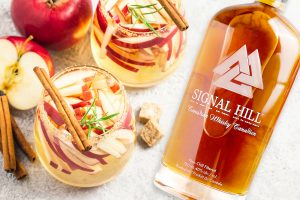 Cozy up with this perfect fall mulled apple cider.
Read More »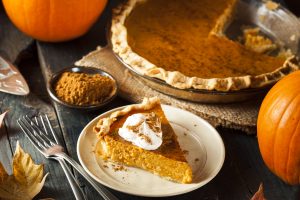 Treat your Thanksgiving guests to a slice of pumpkin pie.
Read More »