THE DRINK: Signal Hill Toddy
2 oz. Signal Hill Canadian Whisky
¼ oz. Honey
½ oz. *Demerara Sugar Syrup
1 Wedge Fresh Lemon
5 Cloves
3 Allspice
3 Pods Green Cardamom
Hot Water, to top up
Crack spices gently in the bottom of a mug or heatproof vessel. Add the rest of your ingredients – squeezing the lemon wedge into your vessel before dropping it in – and mix well with spices before topping up with no more than 5 oz. boiling water. Let steep, drink when it reaches a comfortable temperature
*Demerara Sugar Syrup:
Combine 1 cup water and 1 cup Demerara Sugar over medium heat and stir well until fully incorporated. Bring to a light boil and remove from heat. Let cool before bottling. Keep refrigerated.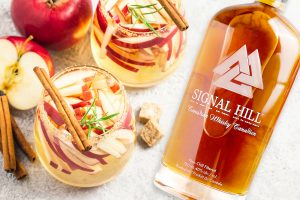 Cozy up with this perfect fall mulled apple cider.
Read More »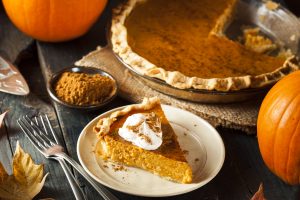 Treat your Thanksgiving guests to a slice of pumpkin pie.
Read More »