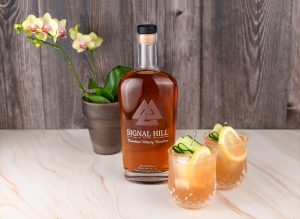 On CHCH Morning Live Mother's Day, segment, Food and lifestyle expert Pay Chen shared some easy and tasty snack ideas for your events and celebrations this spring.
If you are celebrating Mother's Day this weekend, Pay mixes up a Cucumber Lemonade cocktail using Canadian Signal Hill Whisky, which, contrary to what people believe, whisky is a great gift for mom.
The Goods:
2 oz. | 60 ml Signal Hill Whisky
½ oz. | 15 ml St. Germaine
¾ oz. | 25 ml Lemon Juice
¾ oz. | 25 ml Simple Syrup
2 Cucumber Slices
Add all ingredients to a cocktail shaker and gently muddle. Add ice to the cocktail shaker and shake. Double strain into a rocks glass with ice and garnish with a cucumber ribbon and lemon wheel.