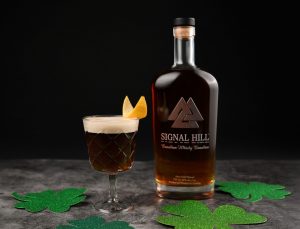 Award-winning bartender Andrew Daw joins Breakfast Television talk show hosts Sid and Dawn to talk all about bartending along with making popular St.Patrick's Day-themed cocktails.
•1.5 oz.| 45 mL Signal Hill Whisky
•1/2 oz. | 15 mL Fireball
•3/4 oz.| 22 mL Fresh Lemon Juice
•1/2 oz. | 15 mL Simple Syrup
•5 Dashes Angostura Bitters
In a cocktail shaker, dry shake the Guinness for 5 seconds to reduce the carbonation. Then add all other ingredients and vigorously shake over ice for 15 seconds. Remove ice and re-shake for 10 seconds. Double strain into stemmed glassware of choice. Add 3-5 drops of Angostura Bitters and garnish with lemon zest.
Watch Andrew make Noir Sour on Breakfast Television at the link: