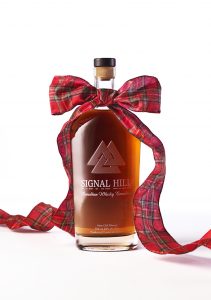 We are wrapping up 2019 by taking a look back on another exciting year for Signal Hill. We've been very fortunate to have such great experiences and so many chances to make new connections this year, and we're beyond excited to set our sights on big things for 2020!
We have had the pleasure of accepting some prestigious awards:
We have connected with new retail partners:
Binny's: Signal Hill was launched in Illinois for the first time this year, debuting its appearance in 41 Binny's locations throughout the state.
Selfridges: Signal Hill has landed in London, UK at Selfridges locations in stores and online.
ANBL: Most recently Signal Hill launched in New Brunswick with its first two stores in Fredricton. Our whisky is expected to hit even more New Brunswick liquor stores in the New Year.
You may have seen us making some new friends at:
New Brunswick Spirit Festival
Hopscotch Kelowna and Vancouver
Whisky of the Worlds, Newfoundland and Labrador
Whisky Ottawa
LCBO Summerhill, Toronto
Cocktail Emporium, Toronto
Rocky Mountain Food and Wine Festival, Alberta
Art of the Cocktail, Vancouver
And we got featured by: